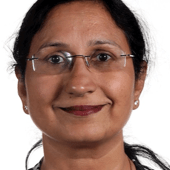 Raghavan Vidya
Consultant Oncoplastic Breast Surgeon – International Surgical Training Programme (ISTP)
Dr Raghavan Vidya is the ISTP Lead for Breast Surgery.  She is a Senior lecturer at Birmingham University and Consultant Oncoplastic breast surgeon at Royal Wolverhampton NHS Trust. She qualified in medicine at the University of Madras, India in 1990. She did her research on aromatase inhibitors at Edinburgh and completed higher surgical training in Wessex and West Midlands.
She actively contributes to teaching and training undergraduates and postgraduates (Keele & Birmingham University, past member of West Midlands Higher Surgical training committee). Dr Vidya is actively involved in local, regional (member of West Midlands Breast Advisory Group) and National (member of ABS breast academic Group, RCS QA assessor, CQC member) committees. She actively contributes to local, regional, National and International leadership in the Educational domain with invited lectures, presentations & practical workshops in UK, Europe and India. She is instrumental in setting up the first Indo-UK Breast Training interface group since 2016. This successful collaboration has enabled sharing of best practice, knowledge & skills in breast surgery. 
 She founded the Innovations and Advances in Breast Surgery, has introduced and mentored new innovations including muscle sparing implant based breast reconstruction She has more than 70 publications and presentations. She is actively involved in clinical trials and has special interest in new technology and advances in breast surgery. Dr Vidya has founded the virtual Global breast Hub, to bring together global experts on a single platform.
She has trained overseas trainees through ISTP programme and well versed with delivering training based on their needs. She believes her broad experience and skills with her passion to make a difference to ISTP training programme now and in future would enhance delivery and leadership of breast training and care.