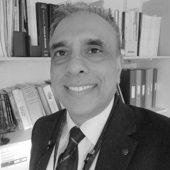 Lasantha Wijesinghe
RCS Council Lead for ISTP, Consultant Vascular Surgeon – International Surgical Training Programme (ISTP)
Lasantha Wijesinghe (known to friends and colleagues as Wije) was born in Sri Lanka and graduated from Cambridge University in 1989 where he was awarded the Lewin Prize in Surgery. His House jobs were in Cambridge and Bury St Edmunds. He went on to work at the Accident Hospital in Birmingham followed by a year as Demonstrator under Prof. Harold Ellis.
An SHO rotation in Addenbrooke's Hospital led to his FRCS in 1994, followed by a Calman Registrar rotation in Yorkshire. Here he cemented his interest in vascular surgery having worked in York, Scarborough, Hull and the two major centres in Leeds. He subsequently won the Gold Medal of the ASGBI in the FRCS (Gen) examination and was awarded his MD Thesis from Leeds University. In 2002 he was appointed to his post as Consultant Vascular Surgeon in Royal Bournemouth Hospital. Wije has served on the Council of the Vascular Society, as Regional Professional Advisor for the RCS and examines for the FRCS and FEBVS examinations.
Wije is married with three adult children, none of whom have the remotest interest in surgery. He has a strong interest in the training and education of junior doctors, physician's associates, nurses, and is a Visiting Fellow at Bournemouth University. In his spare time he is a volunteer and sponsor of several Christian and secular organisations, an enthusiastic cricketer and a fair-weather walker.